Photo by Edward Franklin on Unsplash.com
There's No Shortage of Great Places to Dine and Drink in Ludington
Most restaurants in Ludington are easily found on the US-10 corridor or in and around the downtown area.* Choose from fine dining, pizzerias, ice cream parlors, cozy cafes, pubs, coffee shops and good old fashioned family restaurants. Each place comes with small-town, friendly service that makes your dining experience complete. During the busy summer months, it may be wise to call ahead to see if the restaurant you're planning to visit takes reservations.
More and more restaurants are taking advantage of locally sourced food to better serve their customers. In Ludington and nearby communities along the lakeshore, you will find produce farms that practice sustainable, organic agriculture, poultry and meat producers that raise free-range and grass fed livestock without the use of hormones or antibiotics, homemade and preservative-free bakeries, as well as cheese and dairy farms. Eating fresh and healthy is easy to do here in West Michigan.
*Please note, restaurant dining rooms may be closed due to COVID-19 mandates, and ads may not reflect the menu and buffet changes required during the pandemic. We encourage you to click through to the business' websites for current information.
Food & Beverage in Ludington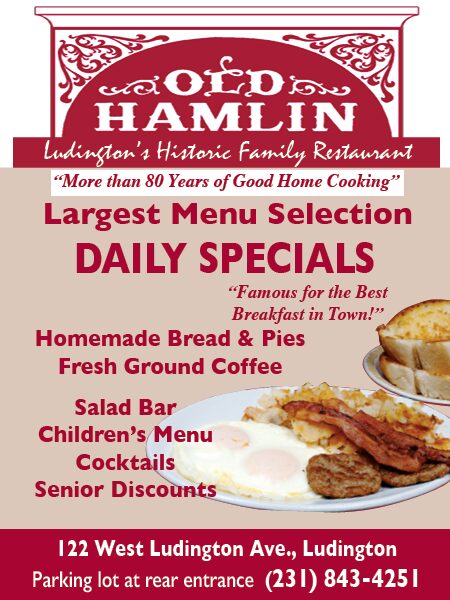 Good home cooking since 1942, featuring homemade baked goods. American food with a few Greek, Italian, and Mexican dishes. Daily specials. Fri.--all you can eat fish fry; Sun.--roast chicken. Beer, wine, cocktails. Historic family restaurant, downtown Ludington.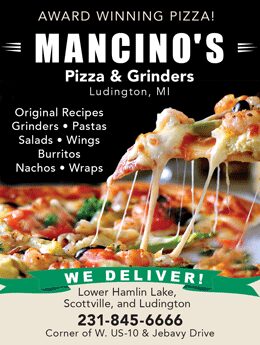 Original recipes and uncompromised quality make Mancino's a local favorite! We use only the freshest ingredients and our grinder and pizza dough is made from scratch daily. Serving wings, salads, pasta, wraps, specialty pizzas and traditional favorites. Dine in, carry out. Delivery to Ludington, Lower Hamlin, and Scottville! Open daily at 11am.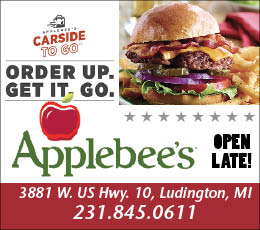 Everyone loves Applebee's! Come in for a delectable meal at an affordable price. Try an entree off the menu, or order the 2 for $20...2 entrees and an appetizer. Visit our full service lounge, with Happy Hour Monday-Friday from 3-6pm. Daily late-night specials and Carside to Go!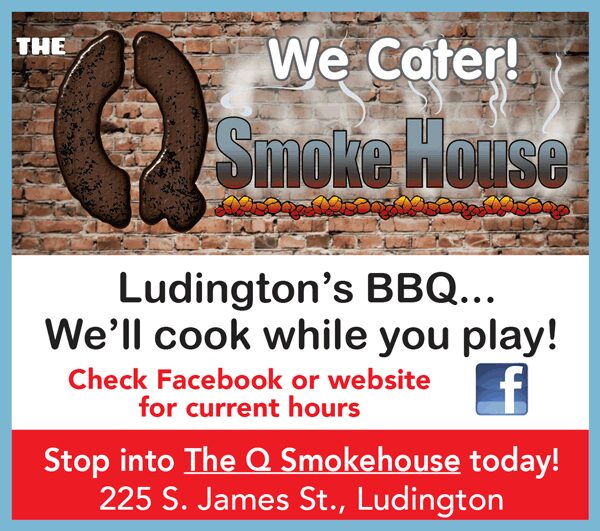 Taste the most mouth-watering meats, like chicken, ribs, beef brisket, and chopped pork... fresh from the smoker so it practically melts in your mouth. Complement your meal with sides like homemade coleslaw, baked beans and potato salad. Combo meals and desserts available. Check Facebook or the website for current hours.
Ludington's only European bakery! Start your day right with delicious Eggs Roulade, Homemade Torte, "Eggs in the Nest" or other breakfast favorites. Lunch menu includes specialties like Smoked Chicken, stacked sandwiches, french dip, and The Cafe Special. Also homemade soups and salads, plus bakery items. Open Monday-Saturday 8am-4pm. Take out available.
Don't miss Ludington's first hometown Brewpub. Great food and service in a kid-friendly, casual atmosphere. Serving lunch, dinner and cocktails. Try our own hand-crafted beers and delicious homemade specials. Also offering brewery tours, Wi-Fi and covered deck dining. Just blocks from the carferry docks.
Visit Sunset Side Concessions at Stearns Park Beach! Menu includes burgers, hot dogs, a variety of sandwiches featuring roast turkey, soft pretzels, ice cream, candy, and caramel corn. Also deep fried Oreos, chips, and beverages. Located at both the north and south ends of the beach. Rent kayaks and paddleboards here.
Table 14 is located on the corner of Rath & Ludington Avenue in downtown Ludington. Chef Howard Iles is a local talent trained in Charleston, SC. Eclectic fare with a southern twist. Full bar and outdoor seating available. Reservations recommended. Find us on Facebook. Are you ready for something different?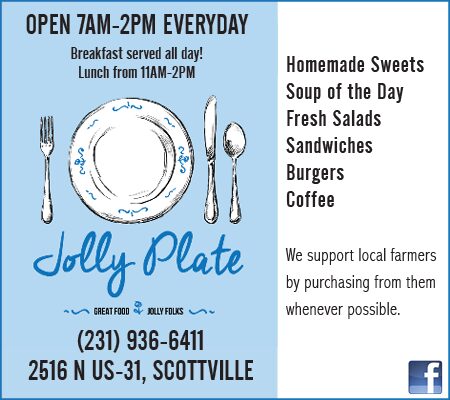 Jolly Plate offers the very best breakfast and lunch using quality products from local providers. The aroma from our very best coffee fills the atmosphere, making you feel right at home. Our staff is friendly and we work hard to bring a positive dining experience to each and every customer.