Photo by Todd & Brad Reed Photography
From Boating to Golf to Museums, West Michigan has Plenty of Ways to Play
Let's see–we have boating, fishing, swimming, golfing–and what else? There's such a variety of things to keep you entertained while you're in the West Michigan area! Tour Historic White Pine Village or enjoy a thrilling dune ride at the Silver Lake Sand Dunes, or visit the popular Ludington State Park. Take the family out for a game of mini-golf, bowling, or catch a concert. You can't leave the area without visiting one of the spectacular lighthouses of the region, and just catching the sunset over Lake Michigan is worth the trip. View the S.S. Badger carferry as it sails into or out of Ludington, or hop on board yourself for the four-hour trip across the big lake. Boredom is never a problem here in West Michigan!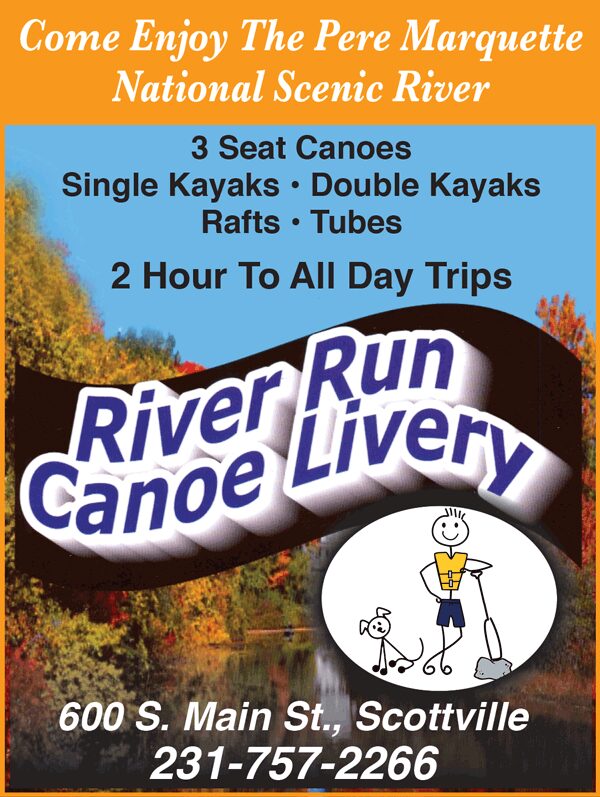 Come paddle the scenic Pere Marquette, an easy flowing river for the whole family. Featuring Old Town kayaks, double kayaks, 3 seat canoes with cup holders and a cooler, tubes, and 4 person rafts. Equipment cleaned daily and we offer a variety of trips. Open Monday-Friday 10am-5pm; Saturday and Sunday 9am-5pm.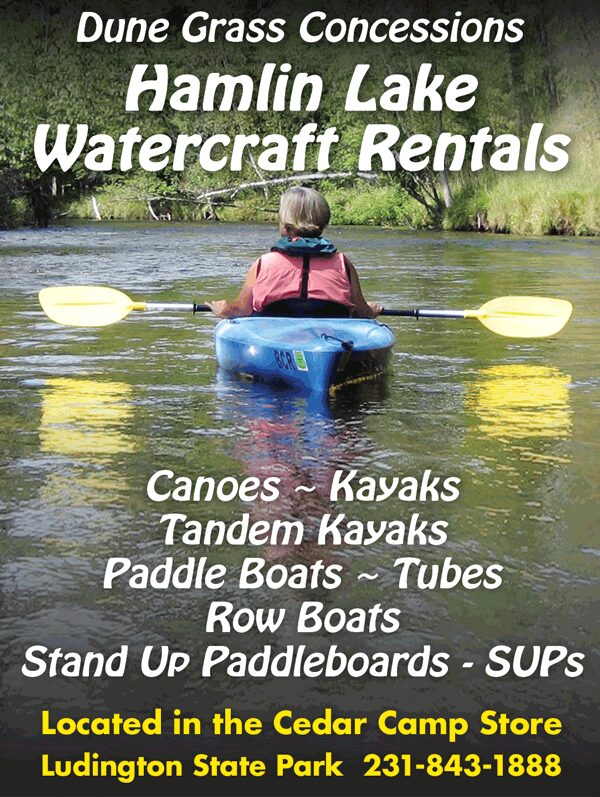 Offering the largest selection of watercraft rentals to explore beautiful Hamlin Lake, including paddle boats, canoes, kayaks, tandem kayaks, stand up paddle boards and rowboats. Also fishing and camping supplies, grocery and personal items, clothing, beach supplies/toys, and tubes to float the Sable River. Open seven days a week mid-May through October.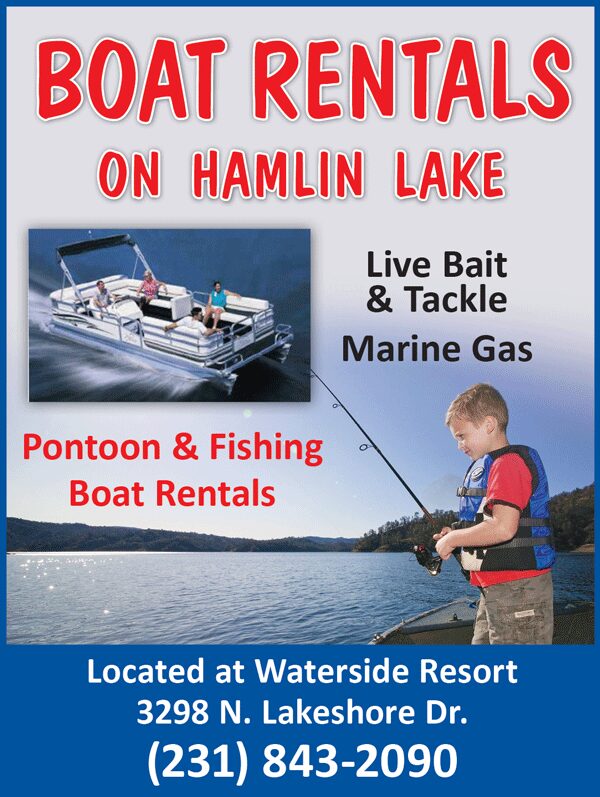 Family-friendly fun on Lower Hamlin Lake! Rent a pontoon boat for pleasure or fishing. Also 14' and 16' fishing boats with 8 hp to 25 hp motors. Our store has live bait, tackle, outboard gas, fishing licenses,and picnic supplies. Also cottages for rent on the lake! For lodging, call: (231) 843-8481.
"Bringing History to Life!" A step back in time in a picturesque setting for the entire family. Tour historic buildings. Visit the old-fashioned ice cream parlor. Interact with characters in period costume as they provide a 1st-person interpretation of pioneer life in the late 1800's/early 1900's. Special events throughout summer and fall.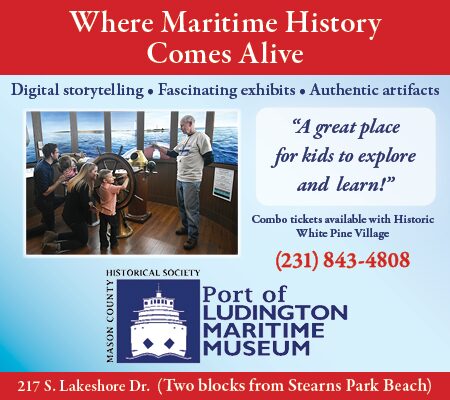 Celebrate and remember Ludington's rich maritime history at the Port of Ludington Maritime Museum, where visitors will be entertained and enlightened with interactive exhibits and virtual experiences. Located within a former US Coast Guard Station, the museum is a landmark on the National Register of Historic Places and opened in 2017.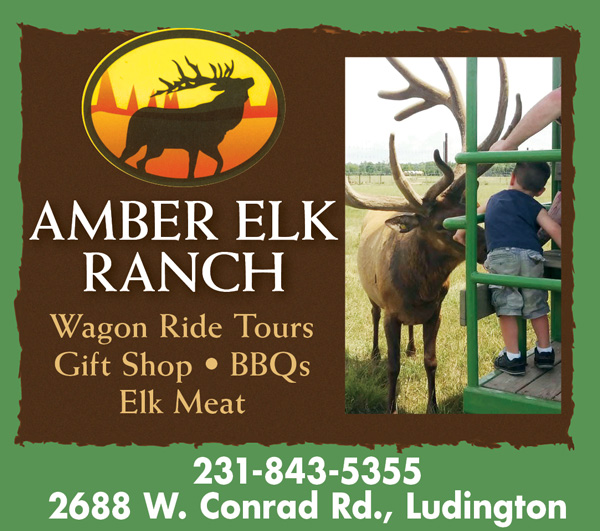 Family fun for all ages! Take a wagon ride tour through 130 acres of pastureland to see huge bull elk, elk cows, spikers, and calves up close...a unique memory your family won't forget! Browse our gift shop, the Antler Shed. Don't miss the Saturday BBQ, also try our Premium Elk Meat and jerky!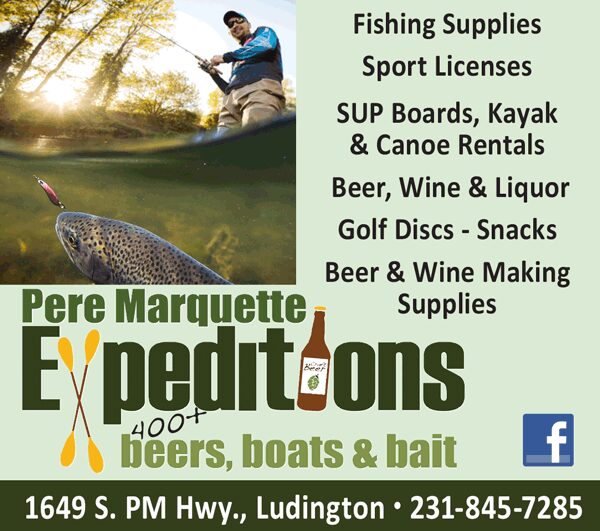 Call ahead for canoe, kayak, double kayak and SUP rentals. Launch here or take off-site! Rental rates on our website. Bait, tackle, and sport licenses available here. Huge selection of golf discs and accessories! Get your beer, wine, liquor, live bait, tackle, and camping supplies here! Open daily 6am-11:30pm.
Create...discover...explore. Featuring 4 levels of interactive exhibits that promote hands-on discovery and inspire creativity, curiosity, awareness, and love of learning. Meet our new Bearded Dragon and explore our new Water Safety Exhibit. New ventilation system, sanitizing stations, and constant cleaning for a safe, fun experience. Check website for current hours.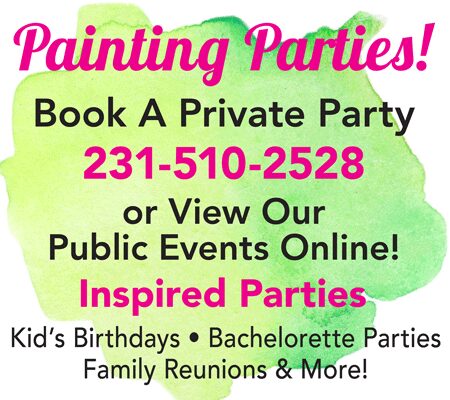 Celebrate your Bachelorette party the creative way by hosting a paint party with your friends! Pick a date, painting, and location, and we'll bring the supplies and provide full instruction. Choose a theme such as wine and paint to make it even more fun! With 10 or more guests, the Bachelorette paints free!
Renovated in 2017, the Ludington Area Jaycees Mini Golf Course has 18 holes dedicated to the "Landmarks of Ludington". Putt-putt for a purpose as profits from the course are donated back to community enrichment projects and organizations. Open noon-9pm daily, Memorial Day-Labor Day. Owned by the local Jaycees organization.
Golden Sands is a 9-hole golf adventure, open year-round, with four sets of tees and a driving range. Ask about lessons and our summer youth golf camp! Enjoy live music during the summer. The course and restaurant are family and pet friendly with plenty of outdoor seating! Book your tee-time or order your meal online.
Enjoy the Jam Farm's homemade jams, jellies and marmalades with over 50 different flavors! All fruit comes from the Jam Farm or local neighbors. No preservatives or artificial flavors! Homemade gift baskets are always available and are great for any occasion! Stop by the produce stand on the farm, grown by the Jamdude!