Welcome to West Michigan!
This online guide will help you discover many West Michigan destinations along the Lake Michigan shoreline as well as communities further inland. Michigan is a beautiful state with scenery as varied as it is magnificent. From the vast wilderness of the Upper Peninsula to miles of sugar-sand beaches along Lake Michigan to rural countryside and picturesque towns, the opportunities for discovering a new adventure or a new destination are never-ending.
Vacationing along the Lake Michigan shoreline is amazing and so is living that dream. This guide also provides information for those who enjoy West Michigan year round.
From vacations to staycations — West Michigan has all you want in a fun adventure. Discover our featured destinations...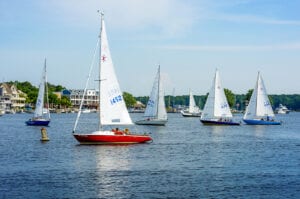 Pentwater is a charming West Michigan village on the shore of Lake Michigan, and a favorite summertime harbor destination.
Small businesses are the heart of West Michigan's communities, providing more than just the necessities. All of the restaurants, pubs, stores, fishing charters, golf courses, florists, and other businesses help create West Michigan's unique character and culture.