Photo by Stephane-Bernard on Unsplash.com
There's Fun for Everyone Around Hamlin Lake
There's boating, fishing, canoeing, swimming, hiking and so much more to keep you entertained while you're in the Hamlin Lake area! Put your boat in the water at one of Hamlin Lake's launches, or rent a boat and motor from a local marina, then explore Hamlin Lake's beautiful shoreline from the water. Park your boat at the sand dunes for sunning and swimming on Hamlin's northern beach or pull in at shore at the Ludington State Park for a picnic lunch and a leisurely hike on one of the marked trails. You land lovers might rather enjoy local live music and shows or play a round of mini golf. Boredom is never a problem around Hamlin Lake!
Places to Play Around Hamlin Lake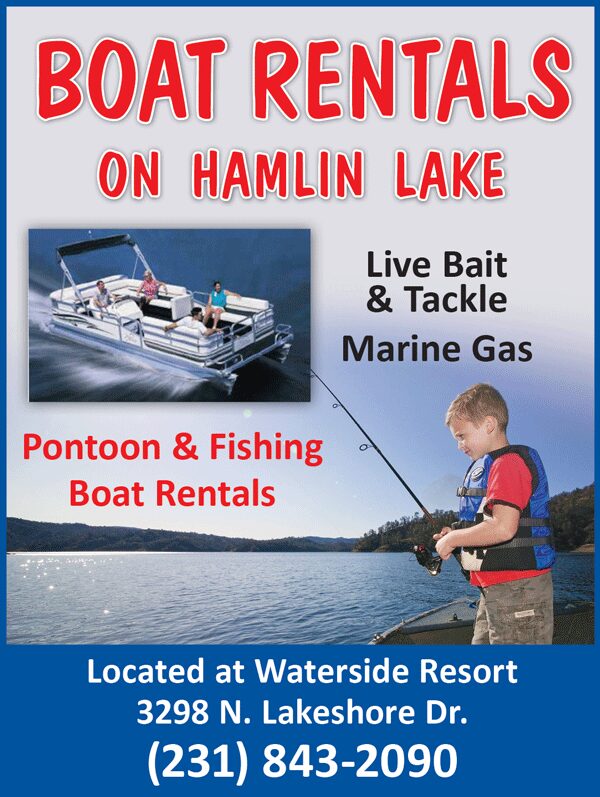 Family-friendly fun on Lower Hamlin Lake! Rent a pontoon boat for pleasure or fishing. Also 14' and 16' fishing boats with 8 hp to 25 hp motors. Our store has live bait, tackle, outboard gas, fishing licenses,and picnic supplies. Also cottages for rent on the lake! For lodging, call: (231) 843-8481.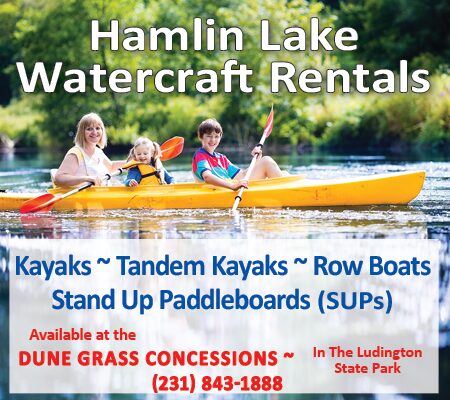 Offering the largest selection of watercraft rentals to explore beautiful Hamlin Lake, including paddle boats, canoes, kayaks, tandem kayaks, stand up paddle boards and rowboats. Also fishing and camping supplies, grocery and personal items, clothing, beach supplies/toys, and tubes to float the Sable River. Open seven days a week mid-May through October.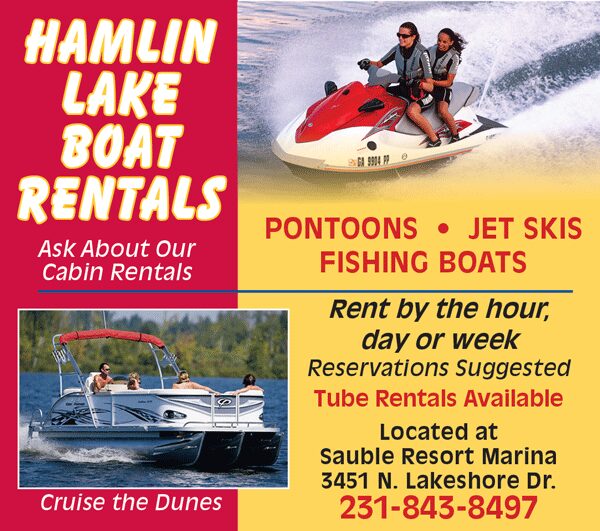 Cruise the Dunes! Explore Hamlin Lake's beauty from the water by renting a pontoon, jet ski or fishing boat. Pull the kids tubing behind a luxury pontoon for hours of entertainment. Visit sand dunes by boat. Available by the hour, day, week. Reservations suggested.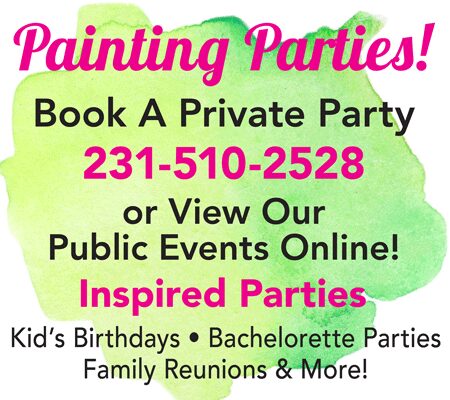 Celebrate your Bachelorette party the creative way by hosting a paint party with your friends! Pick a date, painting, and location, and we'll bring the supplies and provide full instruction. Choose a theme such as wine and paint to make it even more fun! With 10 or more guests, the Bachelorette paints free!
Rent a 22' pontoon for $60/hour (four hour minimum), $425/day. 14' fishing boats with 10 hp motor, kayaks, and canoes also available. Enjoy a 3-4 hour canoe trip on the Big Sable River and Upper Hamlin Lake. We'll trailer your kayak or canoe...or rent ours for $10/hour. Important — call or email for reservations and availability.
Places to Play Near Hamlin Lake in Ludington
Just 4 miles south of the Hamlin Lake area, you'll find Ludington proper which includes the gorgeous downtown area by the shores of Lake Michigan and the US-10 corridor, with even more fun to be found!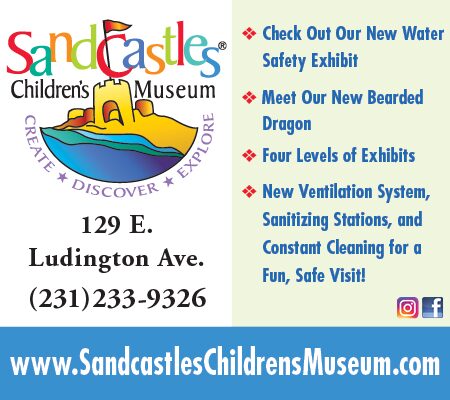 Create...discover...explore. Featuring 4 levels of interactive exhibits that promote hands-on discovery and inspire creativity, curiosity, awareness, and love of learning. Meet our new Bearded Dragon and explore our new Water Safety Exhibit. New ventilation system, sanitizing stations, and constant cleaning for a safe, fun experience. Check website for current hours.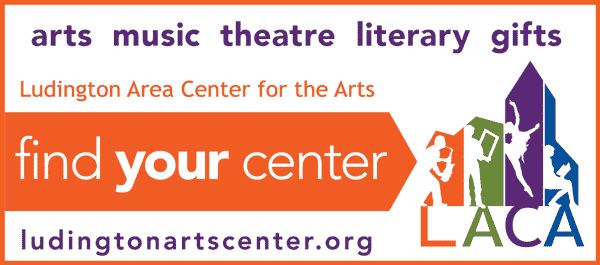 LACA is the center of the area's art scene, offering monthly exhibits, classes/workshops and live music. The art center is also home to a number of creative groups. LACA's gift shop features creative items from an array of local and Michigan artists. LACA hosts the West Shore Art Fair annually in July.
Renovated in 2017, the Ludington Area Jaycees Mini Golf Course has 18 holes dedicated to the "Landmarks of Ludington". Putt-putt for a purpose as profits from the course are donated back to community enrichment projects and organizations. Open noon-9pm daily, Memorial Day-Labor Day. Owned by the local Jaycees organization.
Come fish with Captain Mike Darke aboard the Lie-A-Lot, a 33-ft. Chris Craft Commander. From the port of Ludington, fish for salmon, steelhead, and trout. When booking your charter, rely on Captain Mike's 20-year experience to make your day on the water relaxing and exciting. Fully insured.
More Places to Play Nearby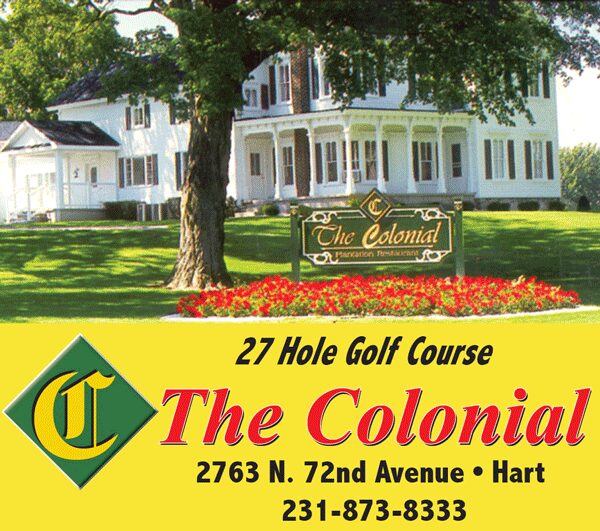 Beautiful 27 hole, 6900 yard par 72 Colonial, and 9 hole 1600 yard par 30 Heritage. Huge driving range, food and refreshments at Colonial Bar & Grille. Senior over 60 rates Monday-Thursday, after 3pm specials everyday. Fridays: $1 per hole, $1 sandwiches, drink specials, $1 per bucket of balls.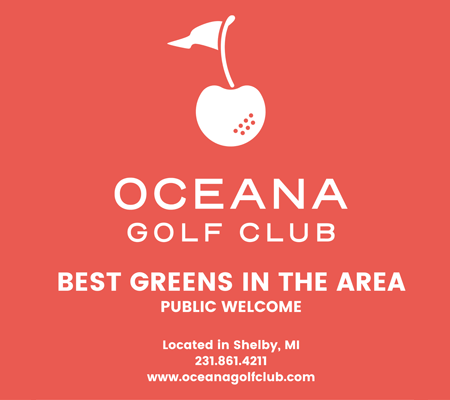 Put your short game to the test in Oceana County's original 18-hole public golf course, featuring the best greens since 1962. The score counts when playing our small, quick, smooth rolling greens. Find us on Facebook, Twitter, and Instagram.
Hamlin Lake Business Directory