Photo by Andy Wang on Unsplash.com
Food & Beverage Around Hamlin Lake
You can drive by car… or even boat to a great restaurant in the Hamlin Lake area. Dine around Hamlin Lake or just a few miles away in the surrounding communities.* Choose from fine dining, cozy cafes, pubs, coffee shops and good old-fashioned family restaurants. Each place comes with small-town, friendly service that will make your dining experience complete. Bakeries, chocolate shops, and ice cream parlors are sure to sweeten your vacation. Breakfast, lunch, or dinner is served for your enjoyment.
Barnhart's Marina and Restaurant, 6006 Barnhart Rd., Ludington, MI, 49431, (231) 843-8246
Food & Beverage Near Hamlin Lake in Ludington
Find plenty of additional options for delicious food and beverages just 4 miles south of the Hamlin Lake area in Ludington proper! There's great pizza, home-cooking, and fine-dining for you to enjoy in Ludington while visiting Hamlin Lake.
More Food & Beverage Information
Food & Beverage in West Michigan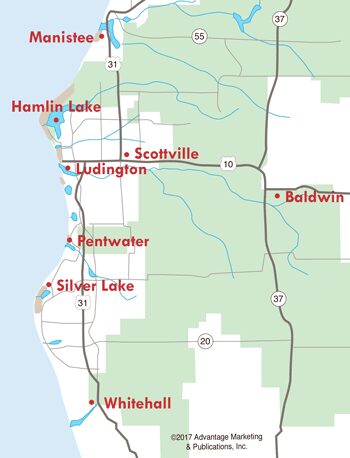 Find Food & Beverage by Destination:
Central West Michigan
Northwest Michigan