Photo by Alex Jones on Unsplash.com
There's Great Food & Beverages in Scottville and Nearby
Scottville and the surrounding areas offer mouth-watering foods at a variety of restaurants. Whether you're in the mood for a hearty breakfast, a casual lunch, or a juicy steak you'll find it here.* 
*Please note, restaurant dining rooms may be closed due to Covid mandates, and ads may not reflect the menu and buffet changes required during the pandemic. We encourage people to click through to the business website for current information.
Food & Beverage in Scottville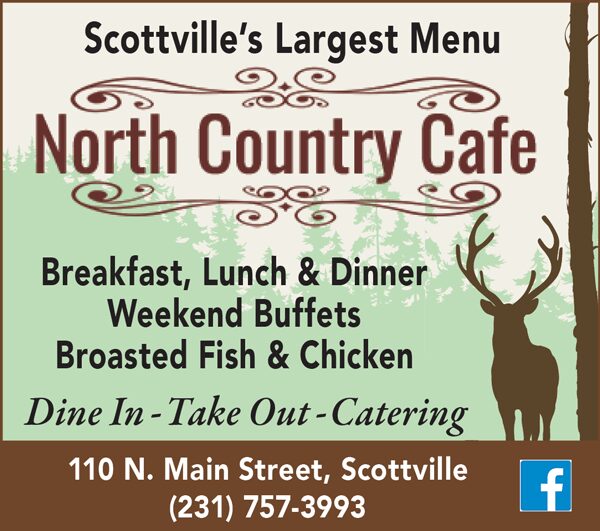 Delicious home cooking! Extensive lunch and dinner menu includes sandwiches, subs, pizza, strombolis, salads, steaks, broasted fish and chicken. Breakfast served all day, featuring omelets, pancakes, french toast, oatmeal, a variety of sides. Homemade soups, desserts, kid's meals, daily lunch and dinner specials. Friday dinner and Sunday brunch buffets all year.
Jolly Plate offers the very best breakfast and lunch using quality products from local providers. The aroma from our very best organic coffee fills the atmosphere, making you feel right at home. Our staff is friendly and we work hard to bring a positive dining experience to each and every customer.
Brenda's Burgers, 124 S. Main St., Scottville, MI, 49454, (231) 613-0161
The 'Ville, 204 W. State St., Scottville, MI, 49454, (231) 631-6802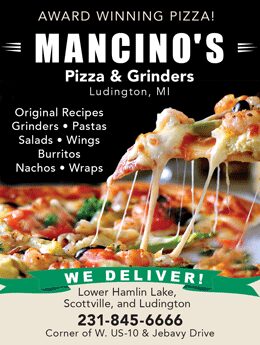 Original recipes and uncompromised quality make Mancino's a local favorite! We use only the freshest ingredients and our grinder and pizza dough is made from scratch daily. Serving wings, salads, pasta, wraps, specialty pizzas and traditional favorites. Dine in, carry out. Delivery to Ludington, Lower Hamlin, and Scottville! Open daily at 11am.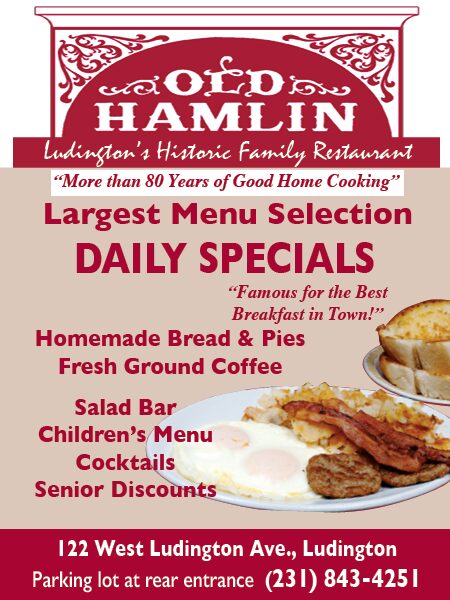 Good home cooking since 1942, featuring homemade baked goods. American food with a few Greek, Italian, and Mexican dishes. Daily specials. Fri.--all you can eat fish fry; Sun.--roast chicken. Beer, wine, cocktails. Historic family restaurant, downtown Ludington.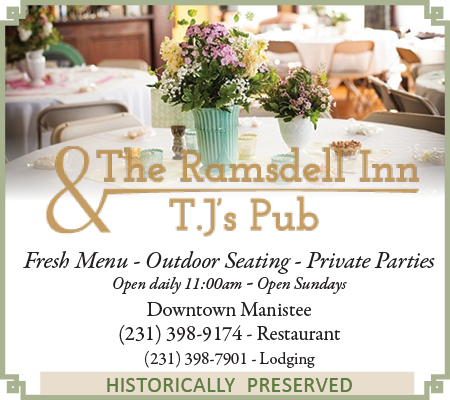 Enjoy the cozy, quaint atmosphere of T.J.'s Pub, located in the lower level of the Ramsdell Inn. Serving soups, salads, starters, sandwiches, and pizza--including gluten-free pizza. We believe in using local produce from area farms for the freshest food. Craft beer, wine, and cocktails served at the bar. Open at 11am. Daily Specials.
Friendly, fast, affordable. This family-style restaurant has a clean, cheery atmosphere, casual nautical decor. Breakfast, lunch served daily starting at 5am. Great flavors, hearty portions, homemade soups. Closest family restaurant to the Lake Michigan Carferry dock, just one block from Harbor View Marina. Free Wi-Fi.
The best in homegrown produce, fresh from our own farm--like strawberries, apples, cherries, peaches, sweet corn, pumpkins, and more. Beautiful annuals, perennials and flowers are found in our greenhouse. Bakery features freshly baked bread and rolls, fudge, pies, and more. Family owned since 1960.