Photo by Jeswin Thomas on Unsplash.com
Delicious Food & Beverage Choices in Manistee
Manistee offers a mouth-watering variety of restaurants and dining choices.* Whether you're in the mood for fine dining, fast food, or fabulous family style dining, you'll find it here. For a pleasant experience, enjoy a meal at a restaurant in downtown Manistee and then walk off the extra calories on the Victorian Port City's Riverwalk, just out the door from many downtown Manistee restaurants!
*Please note, restaurant dining rooms may be closed due to Covid mandates, and ads may not reflect the menu and buffet changes required during the pandemic. We encourage people to click through to the business website for current information.
Food & Beverage in Manistee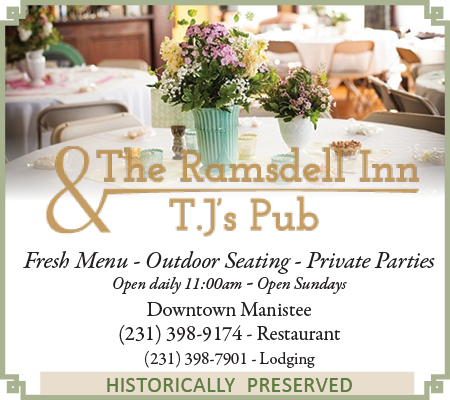 Enjoy the cozy, quaint atmosphere of T.J.'s Pub, located in the lower level of the Ramsdell Inn. Serving soups, salads, starters, sandwiches, and pizza--including gluten-free pizza. We believe in using local produce from area farms for the freshest food. Craft beer, wine, and cocktails served at the bar. Open at 11am. Daily Specials.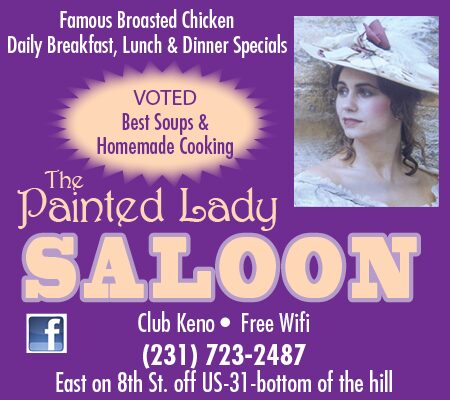 Voted best soups and best homemade cooking in Manistee. Enjoy specialties like delicious broasted chicken, fresh salads and homemade soups. Try the pepperjack crab or chicken pot pie soup! Appetizers, sandwiches, Mexican, and seafood. Serving breakfast, lunch, dinner and cocktails daily. Located east on 8th street, east off US-31. Turn at flashing light.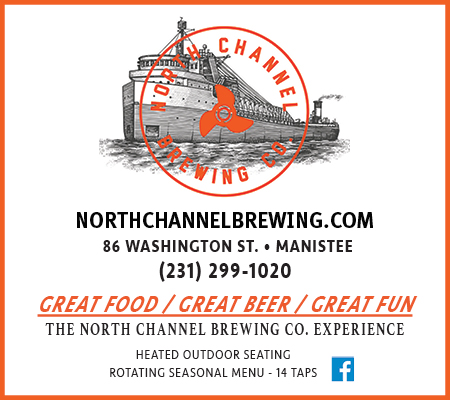 North Channel Brewing Company, situated next to the Manistee River and the Washington Street drawbridge in downtown Manistee, features a large variety of house-brewed craft beers and great food including lunch, dinner, and kids' menus. In summer, sit on the patio and take in the views of West Michigan's beautiful Victorian Port City.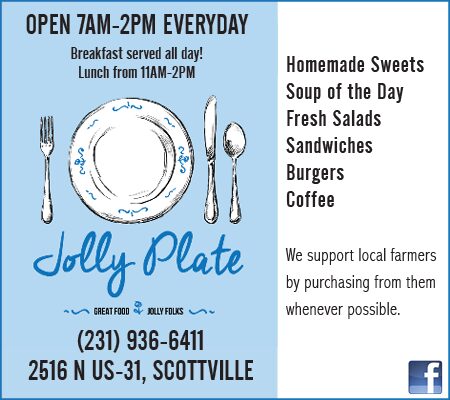 Jolly Plate offers the very best breakfast and lunch using quality products from local providers. The aroma from our very best coffee fills the atmosphere, making you feel right at home. Our staff is friendly and we work hard to bring a positive dining experience to each and every customer.
Iron Fish Distillery, 14234 Dzuibanek Rd., Thompsonville, MI, 49683, (231) 378-3474
Taco 'Bout It Mexican Fusion, 344 River St., Manistee, MI, 49660, (231) 887-4441