Photo by Duy Hoang on Unsplash.com
Summer's coming to an end, so save some money while shopping during downtown Pentwater's Sidewalk Sale Days!
Merchants want to make room for their fall inventory, so they're moving their summer merchandise out on the sidewalk. Browse through the racks and shelves and load up without spending a fortune. Clothes, shoes, art, jewelry, home furnishings- it's all on sale from your friendly Pentwater businesses.
While you're enjoying beaches and the sunshine, do a little shopping while you keep more money in your wallet. Pentwater is known for their wonderful and unique shops, so take advantage of great bargains during Sidewalk Sale Days.
All that shopping is sure to work up an appetite, so take a break and check one of the great restaurants in and around Pentwater!
You could even make a weekend of it and find a cozy place to stay in or near the downtown area. That would give you time to check out all the fun things to do in the area, too!
Pentwater is one of the most charming villages in Michigan, and friendly merchants are happy to welcome you into their shops. Here you'll find a wonderful variety of gift ideas for you or someone special. You can spend hours browsing these shops, or the numerous art galleries throughout town. Take a break and enjoy lunch or dinner at one of Pentwater's restaurants. Some offer outside dining that overlooks Pentwater Lake. Or treat yourself to an ice cream cone and sit in the Village Green- sun or shade, there's a place for you! 
This small village creates memories for you and your family that won't soon be forgotten. 
Read the stories below or go to the Pentwater destination page.
Pentwaer fishing reports for Pentwater Lake and Lake Michigan are provided by the Michigan Department of Natural Resources.
For more information on the Pentwater Sidewalk Sales, please contact:
Pentwater Chamber of Commerce 
324 S Hancock St.
Pentwater, MI 49449
Phone: (231) 869-4150
Current Events in West Michigan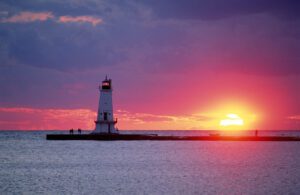 The popular tourist town of Ludington, Michigan will celebrate its 150th birthday (sesquicentennial) in 2023. Many events will be included.
Read More »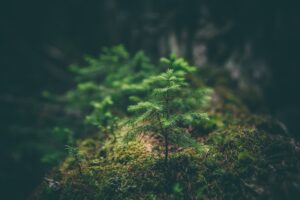 The Spirit of the Woods Folk Festival is held at Dickson Township Park, Brethren, the third Saturday in June.
Read More »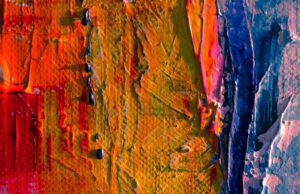 The Traverse City area has several arts and crafts fairs scheduled throughout the year, offering many unique handcrafted items.
Read More »
Activities & Attractions in West Michigan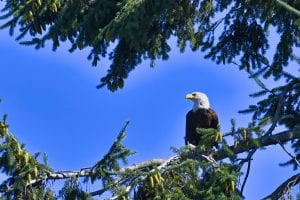 The Michigan Audubon Society Lake Bluff Center overlooks Lake Michigan near Manistee and features wildlife and a bird sanctuary.